Get Organized with Task Tracking System in Your Next Project
•
4 min read
•
Nexus Nook
•
TLDR: duplicate the template here.
⭕ Introduction
Are you looking for a better way to keep your projects organized? With the right task tracking system, you can make sure that everyone is on the same page and can stay organized and productive. Notion is a great tool for setting up a task tracker for your next project. In this article, we'll discuss how to set up a task tracker in Notion and why it is a good choice for project management.
Setting up a task tracker can help you define and manage the timeline of your project. With the right combination of tools and processes, it can help you stay on top of tasks and ensure that your project is completed on schedule.
🆕 Getting Started with Notion
Notion is a versatile task tracking and project management tool that allows users to customize their workflow. It is easy to set up, with a simple drag and drop interface that allows you to quickly create tasks and assign them to team members. Notion also offers templates to help you get started quickly, as well as a suite of powerful tools to help you stay organized and on track.
Notion also offers a range of integrations. You can link Notion to Slack, Google Drive, and other tools to make sure that everyone has access to the same information. You can also link Notion to your calendar, so that you can easily keep track of due dates and stay on top of your projects.
To get started, you can create an empty page and select "Table", then from the right side select "new database" (on desktop).
Every row of the table is a task, and every column is — or can be — a detail of your tasks. Starting from the left, I suggest you create at least the following columns, called "properties": Name - due date (as date type column) - assign to (as Person column) - Project (as Multi-Select column).
If you're using already a diary or a journal in Notion, you can create a Relation property linked to this database, so you can track how many days you spend in a task.

👪 Keeping Your Team Organized
Notion makes it easy to keep your team organized. You can assign tasks to team members, set due dates, and add comments and notes to tasks. This makes it easy to keep everyone on the same page, and ensures that everyone is aware of the tasks that need to be completed.
To achieve this, you can use the property we previously created, "Assign to", to assign a person registered to notion and invited as a guest in your workspace.
✅ Give a due date to tasks
You should take advantage of the powerful capabilities of Notion and use them to your advantage. You can easily keep the page you just created as a "Database" and create a new page as a "Dashboard". It is a great idea to create it now and leave it as a blank page. When you do this, you can use the full width of the page by going to the top right corner and selecting the full-page option. This is a great way to make sure that you are taking full advantage of the potential Notion has to offer.
Type "/" and first select two columns. Then enter one of the columns and type "/" again. Select "New View" and select the database you created in this article. If you haven't created it yet, create a new list to just view the tasks list. On the right column, you can create a calendar view. This way, you can drag and drop your tasks into the calendar to assign them a due date.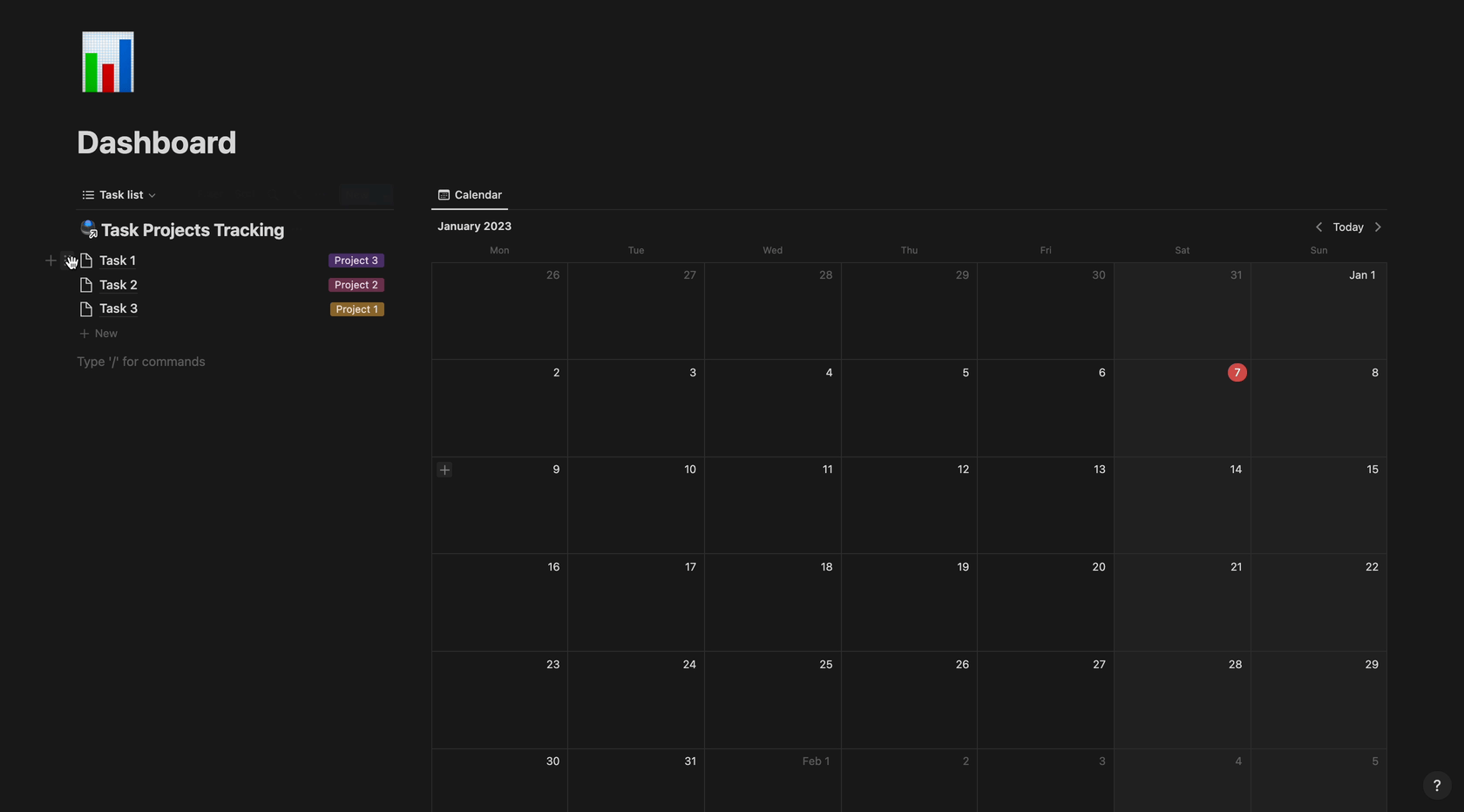 💰Extend to fit your needs
With Notion the only limit is your imagination: you need to check your budget for each project and/or for each task? Add a number property and select the currency you use. Then, at the end of the table you can get a sum of the costs. If you group up by project, you also see how much each project costed.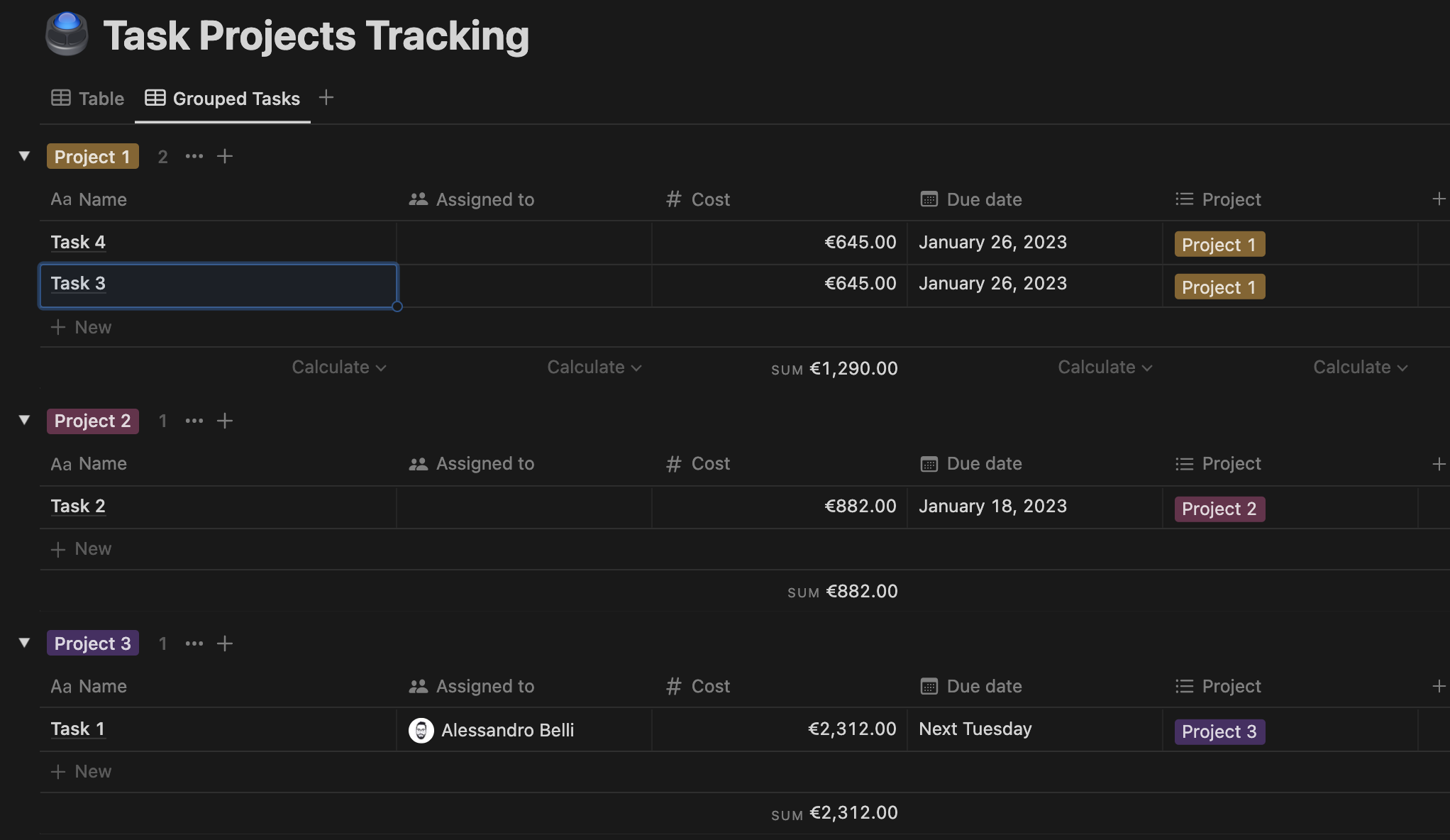 You can also group tasks by date, to divide them by month due, or you can add a "Finished" property to check when something was done. The possibilities are endless, which is why you can connect with me to help you realize what's in your mind.
Conclusion
In conclusion, setting up a task tracker is a great way to keep your next project on track and make sure it runs as smoothly as possible. Here are a few key points to remember to make the most of your task tracker:
Break down tasks into smaller, achievable goals
Set deadlines for each task
Assign tasks to team members
Track progress and use the data to improve future projects
We hope this newsletter has been helpful in setting up your task tracker and wish you luck in your next project!